The Amana Corporation is a subsidiary of the Diakin Group and was first acquired by Goodman in its early days of business. Amana has curated an extensive product lineup and specializes in home appliances. Amana has a comprehensive catalog of Air Conditioners that mold according to your preferences and provides contentment to your home cooling solutions.
The Amana air conditioners are strived towards bridging the gap between affordability and capability. This approach has brought forth impressive designs and dimensions that fit perfectly with the needs of the customer. The Amana air conditioners have consumer faith associated with them and are a reliable home cooling solution.
Pros / GOOD
Multiple stage compressors in different models that supplement less-energy consumption.
Robust sound muffling system due to the heavy gauge steel body construction.
An efficient filter dryer system with a dehumidifier that removes unwanted particles.
The Comfort Bridge technology introduced compatibility between systems.
A high-speed fan motor that pushes out the heat from the system.
Cons / BAD
An Overwhelming assortment of products that does not supplement easy selection.
The communication system is erroneous in nature.
The much-advertised sound minimization is relevant in high-end models.
The company does not provide any specification or support for the installation of the air conditioner.
The material choice for coils could have been better, considering the product that aims for longevity.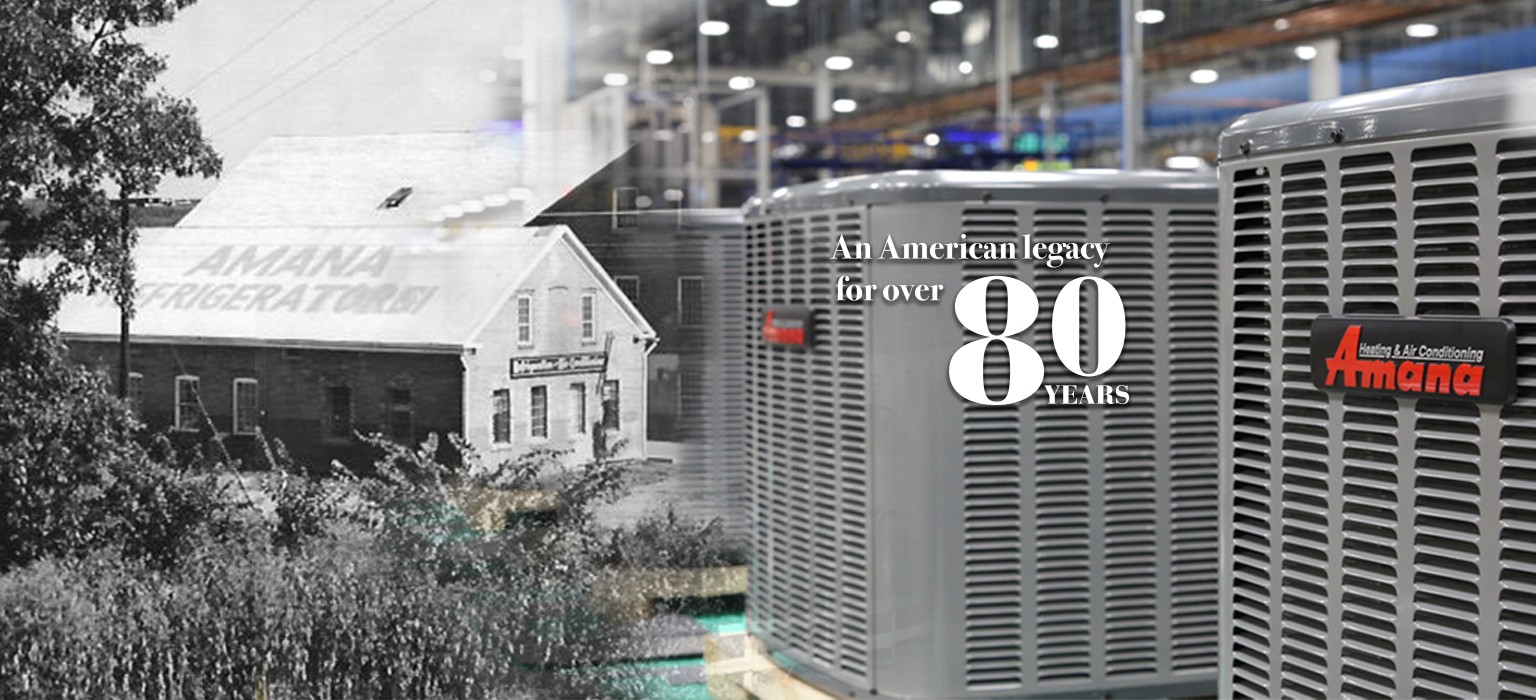 AC Types by Amana
Amana, as emphasized earlier, manufactures most types of cooling systems out there with numerous variants. The air conditioner types include Centralised outdoor air conditioners that are humongous and efficient for covering a large area.
PTAC Systems – They also produce PTAC systems that utilize the hot water supply from the pipes to move it through the system and produce both hot and cool air as per your preference.
Window Systems – Ductless air conditioners (Window and Split) are also made by Amana. Windows air conditioners have to be mounted on a window or a cutout through which in can vent the air and cool the room.
Split Systems – Split air conditioners comprise of two-unit- one that houses the compressor and one that disbursed the cool air into the room.
Portable Systems – The company also manufactures portable air conditioners that are relatively lighter and can be moved across the room. They do not require any permanent installation and can cool an area of up to 300 square feet.
Advanced Functions
Amana air conditioners have a few eccentricities associated with them that create an advantage over their competitors. Some of them are-
Amana air conditioners possess the Comfort Bridge technology that makes the communication between thermostat easier. ComfortBridge is an auto-enabled monitoring feature directly installed into the air conditioning unit and makes adjustments to increase the efficacy of the system.

Amana air conditioners have an Advanced Diagnostics system that operates separately from other units and monitors for any oddities and fluctuations that hamper the normal operation of the unit.
The Amana air conditioners are known to keep things quiet while operating and do not sound like babbling generators. The heavy-gauge steel body does not vibrate much and holds the components inside it with a firm grip.

Amana air conditioners have a Two-Stage Compressors system in higher-end models that operate on variable power requirements and remove moisture from the room efficiently due to a robust dehumidifier system.
Two-stage compressors also distribute the workload and operate at higher energy efficiency than the single-stage compressors that cycle off frequently and always operate at 100 percent power.
Amana air conditioners have high-efficiency two-speed ECM Condenser Fan Motor that pushes out warm air to the environment by changing its speed according to the amount of heat generated inside the system.
Amana air conditioners come with an inline filter dryer that efficiently removes obstructing particles such as dirt, metal, or chips from entering the refrigerant flow control.
Efficiency (SEER rating)
Amana air conditioning units are able to reach SEER ratings of 24.5 in higher-end centralized variants and have very little operating costs. The minimum SEER rating for Amana AC ranges around the specified bracket (13 and above) and is an efficient air conditioning product even in low-end variants. The SEER is bound to increase only if the outdoor temperatures and indoor temperatures lie in close co-relation with each other over a period of time.
Tonnage/Capacity
The Amana air conditioners have a tonnage capacity of 1.5-5 tonnes. The centralized air conditioning units can go up to 5 tonnage capacity while window and portable models range around 0.6 to 2 tonnes. The tonnage variation is what makes Amana AC's a relatable choice among consumers.
Energy Efficiency Rating
The Amana air conditioners have an EER rating of up to 12 units and strictly abide by the Energy department guidelines. The EER is used for window air conditioners and ductless systems and accounts for AC operation under a steady state.
Sound / Noise rating
The Amana air conditioners are quieter and produce less noise than similar counterparts. The high-end centralized ac models are constructed out of thick steel that experiences less vibration while operating vigorously. The units also have a compressor sound-reduction cover made of dense foam that absorbs all the clutter emanating from it.
Compression and coils
The Amana air conditioners use all-aluminum coils to control costs while maintaining the efficiency of the coils that mediate the flow of refrigerant across it. The single metal solution is more reliable than mixed-metal incorporation that is not able to fully utilize its elemental properties. The Variable Speed Compressor is used in many models which reduce the burden on the overall unit by deducing the amount of power required for minimizing electricity costs.
Installation and maintenance
Amana advises its users to avail of the facilities of only a licensed contractor for the air conditioner installation. Proper installation should cover apt space selection for setup with close power socket positioning with ample voltage supply. The unit should be mounted firmly on the brackets and should be a little elevated from the ground to avoid water seepage. Regular maintenance along with frequent checks should be done to the system for loosened and malfunctioning parts along with leakage spots.
Warranty
The compressor is covered by a Lifetime Unit Replacement Limited Warranty, good for as long as the purchaser owns his/her home. If the compressor fails, a new complete condenser unit is provided to the consumer at no charge. All remaining functional parts are covered by a 10-Year Parts Limited Warranty. Careful scrutiny of the regulatory norms and conditions must be done before agreeing to any warranty document.
Conclusion
Amana, as an AC manufacturer, provides a plethora of options to choose from. The product boast of superior build quality and efficient power management that diminishes its operating costs in the longer run. The company, however, should make efforts in the installation department by fabricating a consortium of certified professionals that are approved by the company. This will decrease the after-sales dilemma faced by consumers.